What do you write in a special birthday card? Birthdays are special not just for the celebrant but for friends, family and other colleagues as well. It is the day when everyone can express appreciation and love for the birthday celebrant in different ways. Birthday celebrations may involve a low-key breakfast with the family or an elaborate party for a few dozen people. In most cases, well-wishers express their good wishes through birthday messages especially crafted for the occasion. These messages may be delivered by email or through social media platforms, including Twitter, Instagram or Facebook. Messages may also accompany birthday presents, but whatever your mode of delivery, make sure to personalize your greetings for a more heartfelt impact. Here are a few heartfelt birthday wishes for someone special in your life to inspire your quest for the perfect message.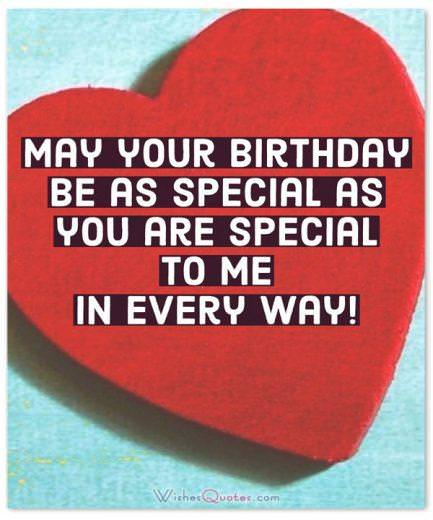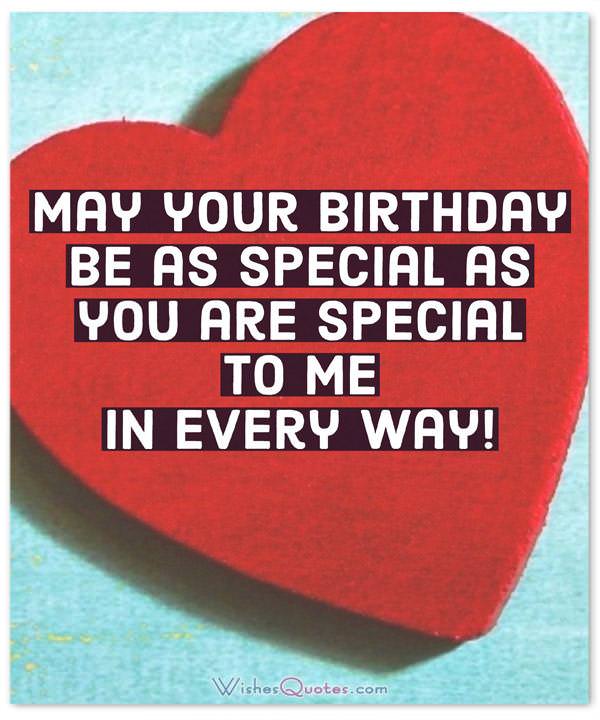 Special Birthday Wishes for a Special Someone on their Special Day
Today is special because you are special. Have a wonderful birthday with family, friends and all those whose company you enjoy. Cheers!
It's not every day that we have the privilege of sharing wonderful moments with someone special. You have made our lives so much richer just by being part of it. May you have the most wonderful birthday today.
Happy Birthday to someone who makes the world brighter for so many folks. You are a gift of sunshine.
May your special day be fantastic, marvelous, and unforgettable… just like you!
May your journey through life be as rewarding as you hope. You deserve all the good things that life has to offer. Happy Birthday!
The greatest reward in life is knowing that we have been an inspiration to others. On your birthday, we would like to thank you for being such a good example of a great human being. Have a wonderful birthday today.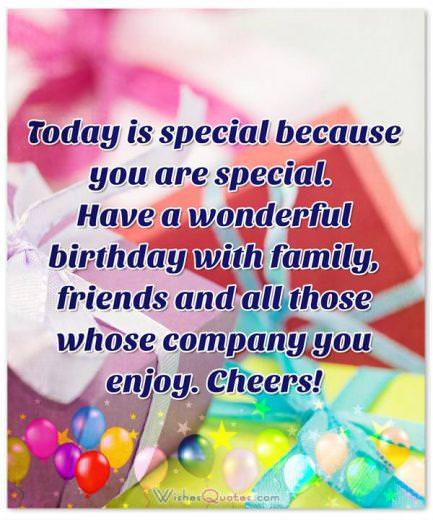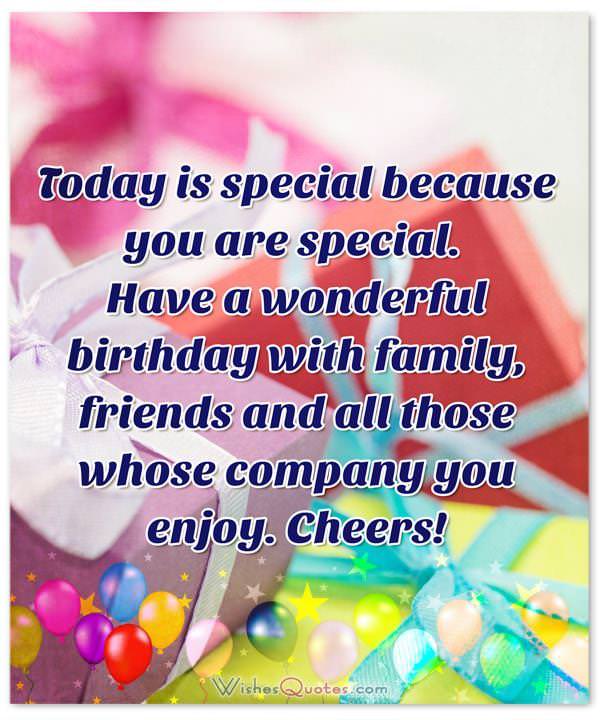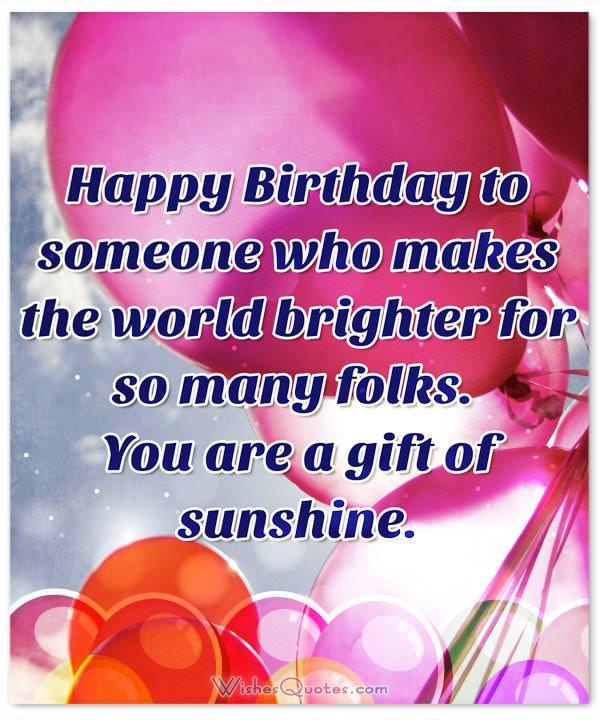 Sincere Birthday Wishes for a Special Male Friend
Everybody's searching for a hero. You are a shining example of strength under adverse conditions and graciousness in uplifting situations. You are a true hero, and I hope that you will have a birthday celebration fit for a hero on this special day. Happy Birthday!
I cannot find the perfect words to express how much I appreciate being in your life. You are wonderful and special and so worthy of a huge celebration on your birthday. I hope you love all the birthday surprises that are coming your way.
To a wonderful human being and one of the best examples of the male species – Happy Birthday!
You inspire me to give my best even when the going gets tough. You are my rock, my refuge and the love of my life. Happy Birthday, and may you have many more to come!
Today should be a national holiday because it's your birthday. You could hang out in your man cave, or you could share this day with everyone who cares about you. Whichever you choose, Happy Birthday, and here's to bigger successes in the coming years!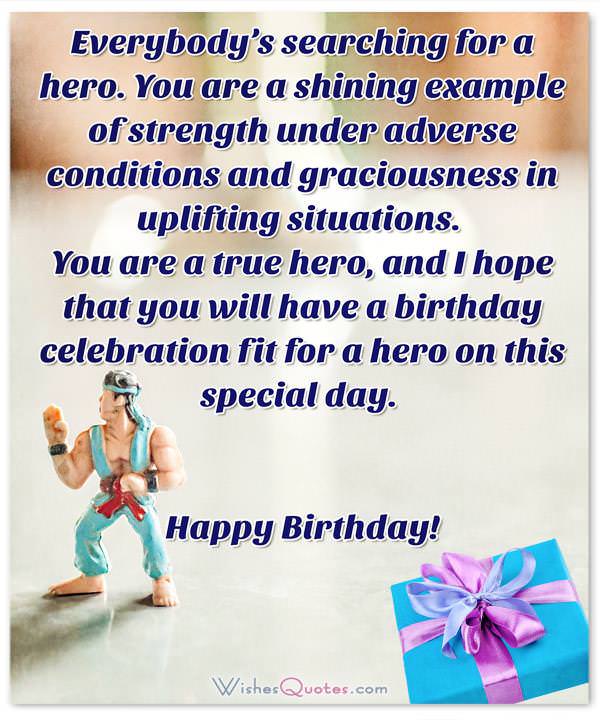 Sweet Birthday Wishes for a Special Female Friend
Today, you are a queen. Tomorrow and forever, you will be a queen because you have earned it with all that you do to make this a better place for everyone. Happy Birthday, wonderful person!
You are my best friend, my soulmate and my partner in crime. You deserve a brilliant birthday celebration for being such a wonderful person. Enjoy your birthday today.
I have been blessed by your presence in my life. You spread joy wherever you go. You show kindness and compassion even under strange circumstances. Birthday toasts for a fabulous lady!
If the dictionary were to use a picture to illustrate the word awesome, they would use yours because you own that word. Your zest for life, your bubbly spirit and the pure joy you show when sharing with others has raised the bar for awesomeness. Happy Birthday to you!
Happy Birthday! You are a true friend to everyone. Expect a big crowd and a lot of love for your birthday celebration.
Passionate Birthday Wishes for Someone Special you Love
I was drifting without purpose until you came into my life. I am blessed to have you by my side for the rest of our lives. Happy Birthday, my love.
I wasn't sure what happiness was until you walked through that door and flashed your megawatt smile. I have been mesmerized by you since Day One. I hope you love your birthday surprise. Happy, happy birthday to my dearest one.
Thank you for the love you have shown me and shared with me. On your birthday, I wish you greater success and the fulfillment of all your dreams. Cheers to my sweetest one.
Simple birthday greetings just won't do for the most amazing person that is you. You deserve the biggest and the best birthday event because you are the most important part of me. To my love, Happy Birthday!
In you, I have found the secret to eternal happiness. In your presence, I have been endowed with the wisdom of the world. On your birthday, I wish you a long life and all your dreams fulfilled. Have a wonderful birthday today.
If they were handing out awards for phenomenal people who make the world a better place just by being in it, you would be at the top of the list. You are awe-inspiring, and I am lucky to have front-row seats in your journey. Let's celebrate your birthday in a way that is fitting for such a terrific person.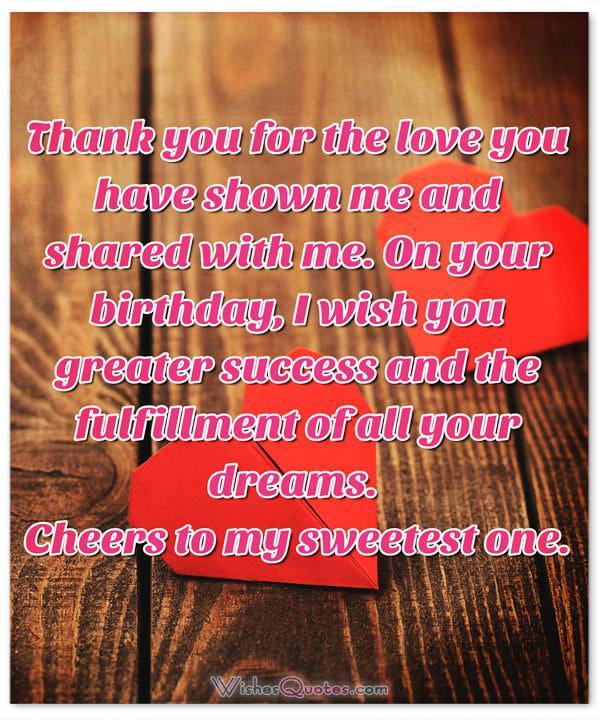 More Special Birthday Wishes