Love is something that brings happiness, glory and liveliness to life. This means your partner is a central part of your life's happiness. Your lover is at your heart; he or she is the one person who's your inspiration for living. This makes it very difficult when your lover is sick and unwell! But don't be overcome with worry. Give your loved one a boost of happiness and cheer by sending "Get Well Messages" and "Get Well Wishes" to your girlfriend, boyfriend, husband or wife. These recovery messages are sure to bring happiness and cheer to your better half, and studies have found that a good attitude serves to promote good health and recovery! So don't delay! It's time to make up a card or even an e-card and send one of the best Get Well Soon messages to your partner.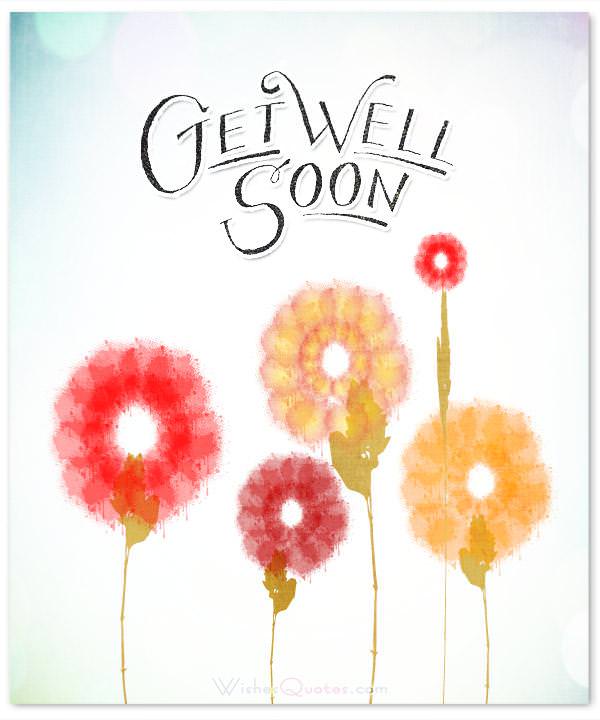 Heartfelt Get Well Soon Messages for your Girlfriend, Boyfriend, Wife or Husband
Get well very soon and be happy, love of my life.
I miss your kisses and hug! Feel better soon!
You sound so sexy in that hoarse voice. I wish this infection could go away soonest but leave behind the hoarse voice. Just kidding. I love your soft one. Get well soon dear.
You take care of me so well always dear now that you are unwell is my perfect chance to get back at you. Get well soonest dear.
You work so hard honey and forget to give your beautiful body a break that is why it has forced you to lay down for some days. Enjoy the rest and get well soon my love.
When I look at you relaxing and getting well, I can assure you I am looking at the sweetest face and perfect body I have ever laid my eyes on. Get well soon my love.
When you are tucked in this bed, I can kiss you all I want without you having to rush somewhere but I love it when you are up and well too. Get well soon dearest.
Get well soon. I can't wait to see you cheerful, happy and healthy again!
When you my love are unwell, I shed tears inside, but my love for you forces me to smile again because it assures me that you will be well very soon. Get well soon honey.
At this period when you are unwell, you are queen all you have to do is ask and it shall be done. Take advantage honey. Get well soon.
You've brought so much joy to my life; I hope to bring some cheer to yours. Get well soon.
Get well soon and hold me tight. If I have it my way, I shall never let you fall ill again!
Get well soon and we can rediscover our love!
Do you smell the aroma of your favorite? That is my message to those disease causing uninvited guests to leave right now! Get well soon sweetie.
I hope each day you spend resting in bed, gets you one step closer, not only to being healthy again, but to being even stronger than you were when you first got ill. Get well soon my love!
I realize you're a "take charge" kind of girl, but now's the time to sit back and let people nurse you back to your dynamic self.
Honey I feel so sad not because you are sick but because I want it to happen right now and when I close and open my eyes you are still on this bed. Get well soon babe.
I am giving this ailment a very short time to vacate my premise. Otherwise, I will come in with full force. Get well soon my dearest.
Seeing you like this makes my heart ache. I can't wait to see you get back on your feet, and return to the old amazing self you were before this illness struck you. Get well soon!
I am sending you hot kisses right now sweetheart, to flush out that could that is putting you down. Get well soon my darling.
I cannot wait to see you coming through our door again after a day of great hard work, full of smiles and joy, to give me warmth that you have in abundance. Please get well soon dear.
I have a special surprise for you darling but to qualify to see it you have to get out of this bed first. Get well soonest. Love you deeply.
I miss our walks in the evening, the breeze on our face, ears and hair. Please get well soon my love.
I went to see the doctor today for you my love, and he said that the last dosage that he could prescribe was lots of love and kisses and I am here to deliver that. I love you honey. Get well soon.
Get well soon. I am eagerly awaiting your speedy recovery, my lover.
I wish for your good health to return soon, my lover.
Get well soonest the love of my life. I love it when you are well and up on your feet. For sure your absence is disturbing me every minute.
Your illness is making me shed tears my love. But your recovery from illness is making me smile again as it assures you will be on you will return home soonest.
Honey I love you so much. Your illness makes me sad and it makes me think about you every minute. I can't wait for the day you will come home, speedy recovery.
You take good care of me always honey and now that you are unwell, I have every reason to be worried. Get well soonest my love and know that I love you so much.
At this time when you are unwell, I am taking my time to pray for you my dear. Everything will be alright with you. Get well soonest and join us.
My life is incomplete without you! Here's to your good health. Get well soon.
No amount of disease can ever beat the love I have for you dear, so this love shall overcome these bacteria. I love you honey. Get well soon.
Seeing you sick leaves me sick with worry. I'm wishing you a speedy recovery.
Sending loads of hugs and kisses. I hope they make you feel happy and healthy.
Get well soon, my dear love! Sending all my love for a fast recovery.
Sending my love and hopes that it this will envelop you with good health.
Sending you tons of kisses to help you recover and restore your health.
Wishing a very speedy recovery to my dear lover.
Get well soon, my dear love. I can't wait to say goodbye to your illness!
You are my life. When you're ill, my heart aches with worry. Get well soon!
You may feel sick and weak right now but to me you are the strongest person I know and love and I know you will bounce back very soon. Get well soon my love.
I pray for a speedy recovery and good health for you –  my most prized possession.
I pray for a very fast recovery and a good health for my dear lover.
I pray to the Almighty to help my lover to recover quickly from this illness.
I simply can't bear to see my love sick! So get well soon.
More Get Well Messages