Valentine's Day is a celebration of love and caring. It could be platonic love between friends, family love from a child to a parent, or romantic love between partners. Even if it's only for a single day, many people pull out all the stops to share this day special by any means possible. Poetry has been exchanged between lovers since the Middle Ages. For centuries, lovers scribbled love notes to one another on the Day of Saint Valentine. In the nineteenth century, with a postal service establishment, more and more wishes were sent alongside flowers and hearts. Even schoolchildren send valentines. Heart-shaped candies and silly-sweet Valentine cards are manufactured for the very young at heart. Today, over a billion cards are sent out on Valentine's Day worldwide full of sweet Valentine's Day wishes. How can you find the unique expression of affection that will charm your lover?  We have heard, and we have delivered to you the best Valentine's day wishes for your boyfriend or girlfriend you can find on the internet!
Thinking of you!
Dreaming of You!
Hugging you!
Missing you!
Wishing you!
I Love You!
Happy Valentine's Day!
This Valentine's Day, I'll spell out the feelings your love inspires in me:


V

ivacious


A

lluring


L

uscious


E

xciting


N

ice


T

antalizing


I

ntriguing


N

aughty


E

nticing
Adorable Love Quotes Cards and Images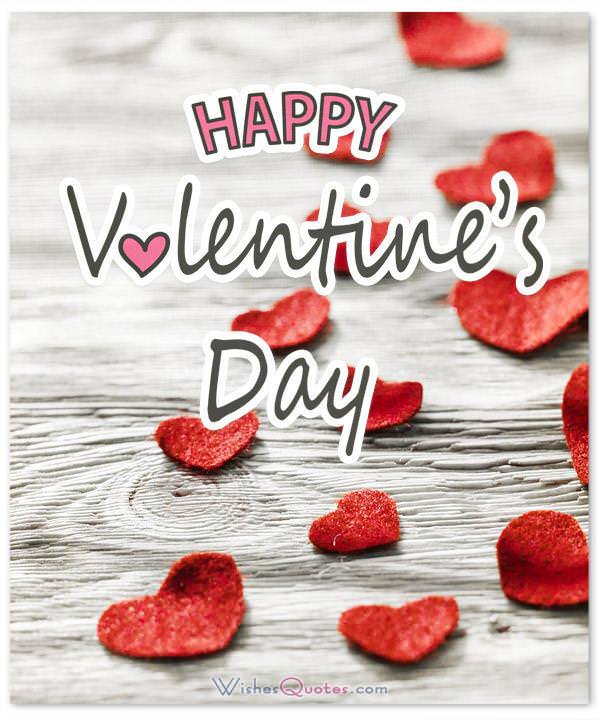 Valentine's Day is a Wonderful Way to Make "I Love You" Easy to Say
We began as strangers. We became friends. We became one with each other… We remain as one forever. We're two parts of a loving whole Two hearts and a single soul Roses are red, violets are blue I made this card just for you It's not the neatest, it wouldn't pass a test But it's made with love–that makes it the best
Every day is Valentine's Day when I am with you. Every day away from you tests my soul and spirit. My only wish today is for us to be together until the end of time. Happy Hearts' Day to you, my love.
Ever since we met, I've been telling you every single day that I love you, today, it's a chance for me to show it as well. Happy Valentine's day!
It never fails. You smile, and the sun comes out. This is why I come to you in my moments of joy and sorrow. You are one amazing person, and I am so lucky to be your Valentine forever.
You make the abnormal seem normal and the normal seem fun. You truly make everything around you better; this is why I love you. Happy Valentine's day!

Romantic Love Quotes to Express your Love for Him

Romantic Love Quotes to Express your Love for Her

When I look at you, I'm amazed by your beauty, both on the outside and the inside. Happy Valentine's Day!
Roses are red and violets are blue,
I've never been more in love with you!
Happy Valentine's Day, my love!
Darling, my love for you is as deep as the sea and as high as the sky. Happy Valentine's Day!
Love is a strange creature. It goads, and it inspires. It is painful yet so sweet. Love is you and me living our lives together. Happy Valentine's Day to us.
You are unique
You are caring and
You are the Best.
And I am the luckiest to have you in my life!
Happy Valentine's Day my sweet heart!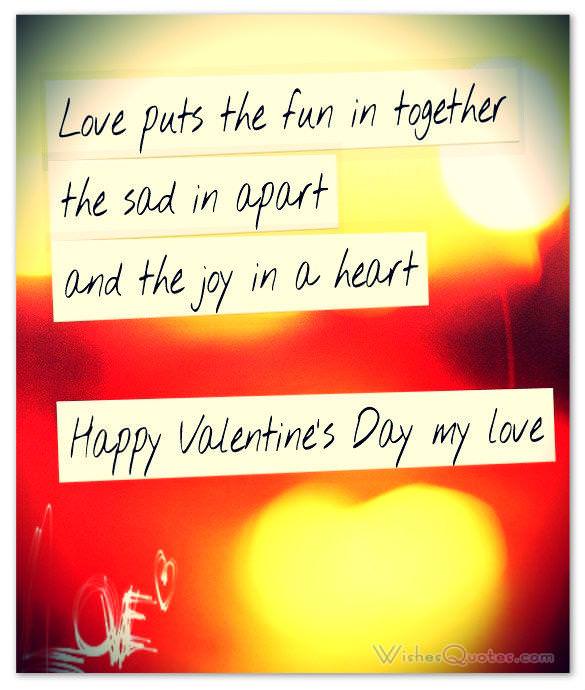 Cute Valentine's Day Poems and Quotes
Love is like a cloud… love is like a dream… love is 1 word and everything in between… love is a fairytale come true… I found love when I found you.

Romantic Love Poems

To be treated the same way everyday… that's my take on Valentine's Day
May this Valentine bless us with the cupid of love and warmth of romance.
Happy Valentine's Day Honey!

Valentine's Day Love Notes

May this Valentine's Day be filled with love, understanding, and contentment as you journey through life with those you hold dear.
From head to toe and inside and out, I wouldn't change anything about you. You're ideal in your beauty as well as in your being. Happy Valentine's Day!
Sometimes we make love with our eyes.
Sometimes we make love with our hands.
Sometimes we make love with our bodies.
Always we make love with our hearts.

Valentine's Day Love Cards

If you wake up one day and were asked to have a wish, what would it be?
Mine would be that our love would last until you see an apple in an orange tree.
Love is like playing the piano.
First you must learn to
play by the rules,
then you must forget the
rules and play from your heart.
Happy Valentine's Day.
It is very tough to believe a stranger,
But if someone loves you more than fish loves water,
Holds your hand tight with tears in his eyes and says,
The moment I saw you
I fell in love with you
I can't live without you
and want to spend the rest of my life with you…  Love you … What will you reply?

Top 100 Valentine's Day Love Messages

If I could die early I would ask God if I could be your guardian angel, so I could wrap my wings around you and embraces you whenever you feel alone…
R for red, red for blood, blood for heart, heart for love, love for you, you for me, me is you, I love you.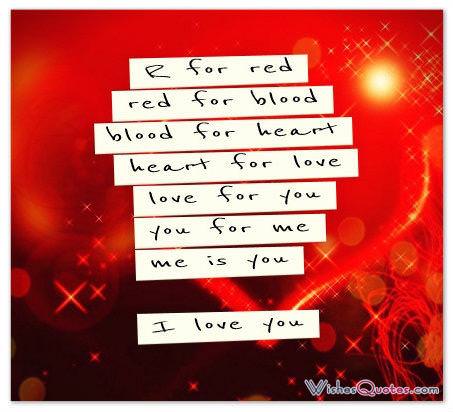 I may not always tell you
What I'm feeling deep inside
The emotions and the feelings
That I sometimes tend to hide
But I'm really proud and pleased
To know that you are mine
And I hope that you still love me
My Darling Valentine.
Our love is like a lovely bridge
Between your heart and mine
A bridge we've built down through the years
Just to our own design.

Cute Love Messages

Because each little wish of mine
You've tried to make come true
(On Valentine's Day), I want to say
How dearly I love you.
All the love that history knows,
Is said to be in every rose.
Yet all that could be found in two,
Is less than what I feel for you.
Happy Valentine's Day
I want to wake up to see you by my side, and I want to feel you, next to me, the last thing before I go to sleep I want to share every moment with you.

The Sweetest Love Poems and Messages for your Valentine

Love is like swallowing hot chocolate before it has cooled off. It takes you by surprise at first, but keeps you warm for a long time.
Sweeter than chocolates, Sweeter than wind, Sweeter than just about everything, You are my Valentine, Happy I Love You Day.
Love is the emblem of eternity: it confounds all notion of time: effaces all memory of a beginning, all fear of an end.

Romantic Valentine's Day Messages for Girlfriend or Wife

A valentine is a gift to the heart, a friend to the spirit, a golden thread to the meaning of life.
Love is what makes two people sit in the middle of a bench when there is plenty of room at both ends.
It was love at first sight… and second sight… and third… and so on. It was, it is and it will be you and me in love forever.
Pure love is a willingness to give without a thought of receiving anything in return.
I Love my eyes when u look into them; I Love my name when u say it; I Love my heart
when u Love it; I Love my life when you are in it. Happy
Valentine's Day!
Hi dear,
I love you so much.
I cant live without you.
I need you in my life.
Everyday I want to see your eyes.
Hold your hands n walk with you.
Every night I want sleep on your chest.
Wanna make love with you.
Wanna be a good mother to your kids.
Wanna be a good wife to you.
I want your love forever.
Then one day i will die on your lab.
But my love will never die for you.
I LOVE YOU…
Love is like a cloud
Love is like a dream
Love is one word
& everything in between!
Love is a fairy tale come true
I found love when I found you!
In love there will always be a special someone
A special someone that will protect you
And bring you roses to let you know how special you are
And to love, forever more .
Happy Valentine's Day !
A Valentine Card $4
A Box of Chocolates $10
A Dozen Red Roses $30
You being my Valentine PRICELESS ..!!!
Today I like you
Tomorrow I Will love you
through the frights
Through the cold nights
I love you always and forever
Happy valentine's day .!
There's nothing like a valentine,
To make a smile appear,
A heart-shaped card filled with kind words,
Sent from someone who's dear.
A friend or even a relative,
Who takes the time to say,
I like you just because you're you.
That's what is done this day.
No poems no fancy words… I just want the world to know.. That I LOVE YOU my Princess with all my heart. Happy Valentine's Day.
My Heart To You Is Given, Oh Dear, Do Give Yours To Me, We'll Lock Them Up Together And Throw Away The Key